As more facilities opt for beginning CO2 euthanasia with measured percentages of O2 and CO2, economically priced systems with oxygen and carbon dioxide become necessary. The Complete 3 Stage Solution system, with its individual oxygen and carbon dioxide flowmeter, can be used for:
Oxygen supported recovery
Short term anesthesia
Humane euthanasia
12 LPM CO2 Flowmeter/Regulator assembly, 15 LPM O2 Flowmeter/Regulator assembly, Recovery/CO2 Mouse Housing Cage, Universal lids for rat and mouse cages, 8' tubing which connects to Flowmeter and universal lids. E or D Cylinder set up includes cylinder wrench and dual cart.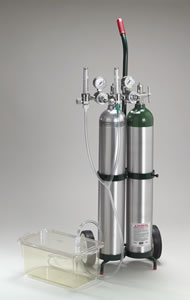 3 Stage Solution System for E Cylinders
(cylinders not included)
Item number: 901703


Carbon Dioxide Flowmeter, 0-12 LPM


(As Shown)




Item Number: 401722




Oxygen Flowmeter, 0-15 LPM


(As Shown)




Item Number: 401720




12 LPM Carbon Dioxide Flowmeter/Regulator
assembly, E or D Cylinders


Item Number: 401745




15 LPM Oxygen Flowmeter/Regulator
assembly, E or D Cylinders


Item Number: 401746




12 LPM Carbon Dioxide Flowmeter/Regulator
assembly, H or M Cylinders


Item Number: 401740




15 LPM Oxygen Flowmeter/Regulator
assembly, H or M Cylinders


Item Number: 401748